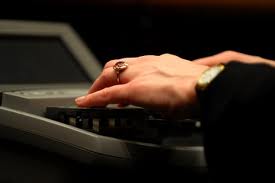 Court Reporting
Court Reporting is the cornerstone of our operation. Our experienced staff of court reporters are available to service your individual needs and demands with the highest standards of professionalism.
We always meet your expectations and deadlines.
When scheduling with our firm, our courteous staff will send a scheduling acknowledgment confirming the details of the assignment within 24 hours. Our staff will call you personally the day before to review the details and confirm the assignment will be going forward.
We abide by a strict 7 calendar day delivery of your transcripts at standard rates.
We offer several different transcript formats to suit your needs including but not limited to the following:
Standard format hard copy
Condensed format hard copy
E-Transcript
ASCII
PDF
All transcripts include Word Index
Custom formats available upon request